Menus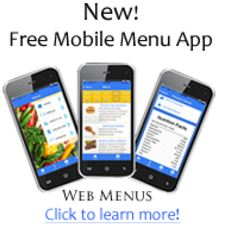 Meals, foods and beverages sold or served at schools meet state and federal requirements based on the USDA Dietary Guidelines. All meals, foods and beverages are prepared and served by qualified child nutrition professionals. We provide students with access to a variety of affordable and appealing foods that meet the health and nutrition needs of students.
Can My Child Eat Breakfast at School?
In addition to participating in the National School Lunch Program, Unit 4 offers a daily breakfast program at the elementary schools, middle schools and Central. The breakfast program functions in a manner similar to NSLP.
For breakfast, ala carte sales are available at the high schools. Click here for Food Service FAQs
USDA REGULATIONS
Your child's school day just got healthier! School lunches now include more fruits, vegetables, and whole grain-rich foods; only fat-free or low-fat milk; "right-size" meals with portions designed for a child's age; and less saturated fat, trans fat and sodium. The changes in school meals, the first in 15 years, are based on the latest nutritional guidelines.
Here are some important facts about the new school meals:
The new school lunch provides 1/3 of the average daily calorie needs for kids by age.
In practice, many students are being served the same amounts of protein as before under the new standards.
Your child can learn good habits for life by making healthy food choices and getting proper exercise now. This year is a transition year as schools implement these new standards and work together with parents, to ensure that every child, in every community across America, has access to healthy and nutritious meals. Encourage them to try new foods and eat the healthy food offered. Reinforce healthy eating by offering similar new foods at home.
Keep updated on the changes at USDAhealthierschoolday!
Pricing
Breakfast Prices
Lunch Prices

All Schools - $1.00

Adult - $1.40

Reduced Price - $0.30

Milk - $0.40

--

Elementary School - $2.30

Middle School - $2.55

High School - $2.80

Adult - $3.30

Reduced price $.40

Extra Entree - $2.25

Sides - $0.75

Extra Milk/Juice - $0.40

Adult Milk - $0.50

--
Click arrows to scroll through months

After School Program Menus

Snack Menu

Balanced Calendar Menus (BK, KW)

CECC School Menus

Snack Menu

Cooking School Menus (BTW, BT, CB, GH, RB, ST)

High School Menus

Middle School Menus

Non-Cooking Menus (DH, IPA, SS, WV)

Novak and Columbia Menus

Important Documents

Allergy Form.pdf Parent Field Trip Meal Form.pdf